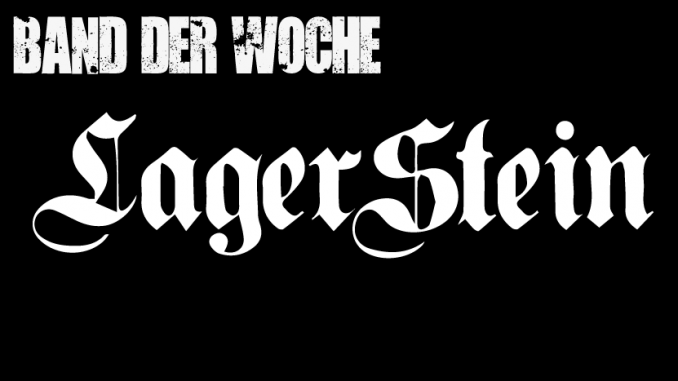 Band der Woche KW 28/2019: Lagerstein
Herkunft: Australien
Genre: Australian Party Pirates
Die Band über sich:
Ahoy Crew! We are Lagerstein, and we love to party. Soaring through the seven skies, Lagerstein are a pirate band on a voyage to rock stages, create catchy music and have the best time, all the time.

Upon the shores of Queensland Australia a group of young friends with a passion for partying, living the good life, and making heavy music decided to form a crew, and the band was born. In the 9 years since, Lagerstein have become an emerging hit. Equally well known for their unmistakable brand of catchy party tunes and legendary live show, Lagerstein's dedication to piracy, partying and their art is unquestionable.

Catchy melodies and a powerful metal backup, combined with the commanding vocals of Cpt. Gregarggh create the instantly-recognisable sounds of partying that characterise Lagerstein. It is within the ideals of piracy, metal and fun that the band have found their home. An eclectic band, creating within a range of musical styles, and drawing from a broad list of influences, fans need only know Lagerstein as the greatest party band of all time. A crew of pirates who above all else, are here to create fun and joy for every single person they meet.

Violinist Mother Junkst says "

Originally we simply wanted to play in a band where we'd have beer bongs on stage. Something fun, silly but with awesomely catchy songs. With time this became something much more. We didn't choose the pirates life, but it turns out we are perfect for it!"

With each album the band seek to tell their not-so typical tales of piracy and adventure. Along the way you will meet many friends, share many drinks and witness a plunder of music. With their debut 'Drink 'til We Die' (2012) Lagerstein established themselves as a new flame of fun, burning bright and fast they ransacked their way through 50 minutes of partying. Followed up by 'All For Rum & Rum For All' (2016) the band again raised the bar with a deepening of their storytelling, as they took fans on a quest for the unquenchable Fountain of Rum. It was here that Lagerstein received their first industry accolade, when in 2017 they won QMA's best Heavy Metal song award for 'Drink the Rum".

But it's on the live stage more than any other place that Lagerstein have proven themselves as a world class force. Combining elements of a house party, a heavy metal concert, and a theatrical performance, you will attest to a whirlpool of booze, fun and metal. The band have been a favourite opener for some of the genre's greatest, including Korpiklaani, Alestorm, Finntroll, Gloryhammer and Ensiferum. Lagerstein are scarcely off the road and across 22 countries, have brought their remarkable live show to tens of thousands of fans

Sailing west in 2019, the party pirates hit the studio to record their third album '25/7' in Sweden with world renowned producer Fredrik Nordström. They are currently engaged on their 'Endless Rum's' Tour across Europe, UK and Australia. Lagerstein plan to continue partying their way across the globe, and sharing fun, joy and the pirates life with landlubbers and sailors the world over.

Party times ahoy!
Kommentar der Redakion:
Lagerstein sehen aus, wie ein Kind von Mr Hurley und den Pulveraffen und Steelpanther auf dem Oktoberfest. Sie sind definitiv aktuell eine der witzigsten Bands auf europäischen Bühnen, und machen wirklich Spaß. Sehr viel Alkohol gehört auch dazu, trotzdem können die Musiker ihr Handwerk! Sehr zu bewundern ist der Einsatz mit dem sie an die Sache gehen, Monate lang in Europa unterwegs ohne die Heimat zu sehen. Begegnungen mit der Crew auf und neben der Bühne gehen immer mit einem erhöhten Alkoholrisiko einher, wahlweise mit einem Trichter oder aus euren Schuhen, ja sie tun es tatsächlich 😉 Ach ja und was ich noch erwähnen wollte, Alkohol, Bier, Rum, Party, Musik, Metal, Bier, Alkohol, Rum … ich glaube ich bin schon jetzt betrunken, dabei kommt die Show erst noch, das wird geil!
Liveimpressionen:
Musikvorschlag:
Live-Termine:
ALLE TERMINE HIER (Da zu viele….)
Band der Woche, unter diesem Titel stellen wir euch jede Woche Dienstag Abend, 20 Uhr eine Band vor. Dies sind jeweils Bands, die von Mitgliedern unserer Redaktion empfohlen werden, vor allem junge Nachwuchsbands, die unserer Meinung nach mehr Aufmerksamkeit verdient haben.