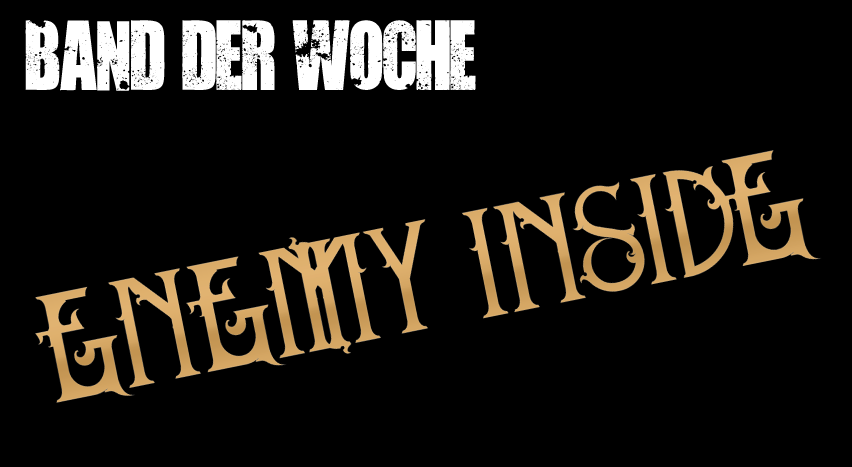 Band der Woche KW 51/2019: Enemy Inside
Herkunft: Aschaffenburg
Genre: Rock/Metal
Die Band über sich:
ENEMY INSIDE was formed in 2017 out of Aschaffenburg, Germany by Nastassja Giulia (Vocals) and Evan K (Guitar), who through wide ranging musical experimentation found their own unique sound – somewhere between "Dark Rock" and "Modern Metal". The music strikes a catchy, mystical chord as the powerful female lead vocals are intertwined with aggressive arrangements and catchy hooks.

Kommentar der Redakion:
Enemy Inside sind zwar erst seit kurzem dabei, haben sich aber schon eine beachtliche Bekanntheit erspielt, wie man auf der gut besuchten Phoenix Tour Anfang des Monats sehen konnte. Die Musik besticht durch eine melodische Musik, kombiniert mit einer sehr kraftvollen Stimme, und kann vor allem live das Publikum begeistern.
Liveimpressionen:
Musikvorschlag:
Live-Termine:
14.03.2020 Obertraubling
21.03.2020 Koblenz
Band der Woche, unter diesem Titel stellen wir euch jede Woche Dienstag Abend, 20 Uhr eine Band vor. Dies sind jeweils Bands, die von Mitgliedern unserer Redaktion empfohlen werden, vor allem junge Nachwuchsbands, die unserer Meinung nach mehr Aufmerksamkeit verdient haben.