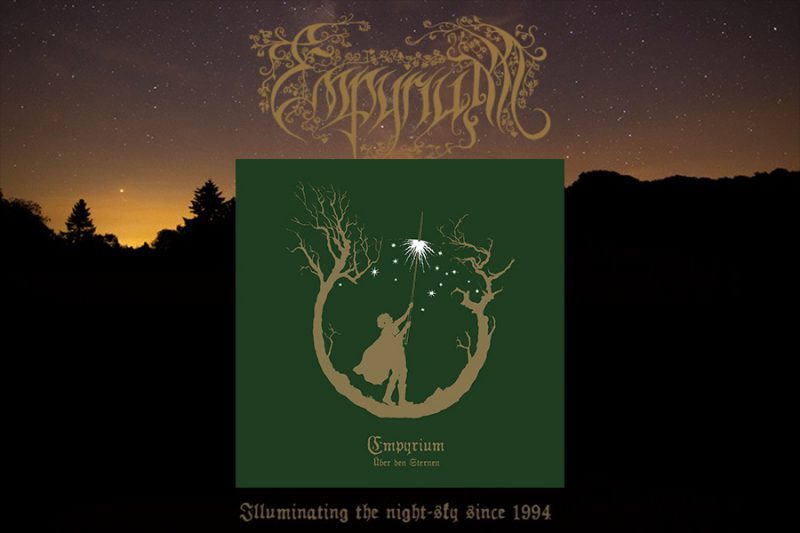 Seit 1994 hat es sich die Band schon zur Aufgabe gemacht, den Nachthimmel zu erhellen, und mit dem nächsten Album soll es nun über die Sterne hinausgehen, bis zu den Sphären Gottes: ins Empyrium.
Vor 25 Jahren erschien das Debutalbum von Empyrium, A Wintersunset, und damit begann auch die Erfolgsgeschichte von Prophecy Records. 2021 nun, zum 25. Jubiläum des Labels, veröffentlichen Empyrium am 26.2. ihr inzwischen 6. Full-Length-Album mit dem Titel Über den Sternen, dessen gleichnamiger Titeltrack am 1.12. präsentiert wurde:
Und so kehrt die Band nach zwei Jahrzehnten zu ihren metallischen Wurzeln zurück und vereint diese mit dem Neofolk Sound der frühen 2000er Jahre. Die verschiedenen Einflüsse der Bandgeschichte verschmelzen so zu einem atemberaubenden Sounderlebnis.
EMPYRIUM still draw from the magic and spirits of wild places, nature's beauty, and human relics of ages long past. "Über den Sternen" echoes this reconciliation of the old with the new on a musical level as well. The Franconian duo is putting more emphasis on the electric guitars and harsh vocals again, which marked their first two albums and stood strong upon the band's melodic black metal foundations. Yet EMPYRIUM also revisit the dark folk style, which the Germans had progressively embraced on their third and fourth albums.
What used to appear to be a crossroad in their musical development has now merged into one breath-taking sound. (Quelle: Bandcamp)
Setliste:
The Three Flames Sapphire
A Lucid Tower Beckons On The Hills Afar
The Oaken Throne
Moonrise
The Archer
The Wild Swans
In The Morning Mists
Über Den Sternen
The Crimson Heath (Deluxe Version Bonustrack)
Vorbestellen könnt ihr Über den Sternen hier.
Wir freuen uns schon sehr auf das Album!