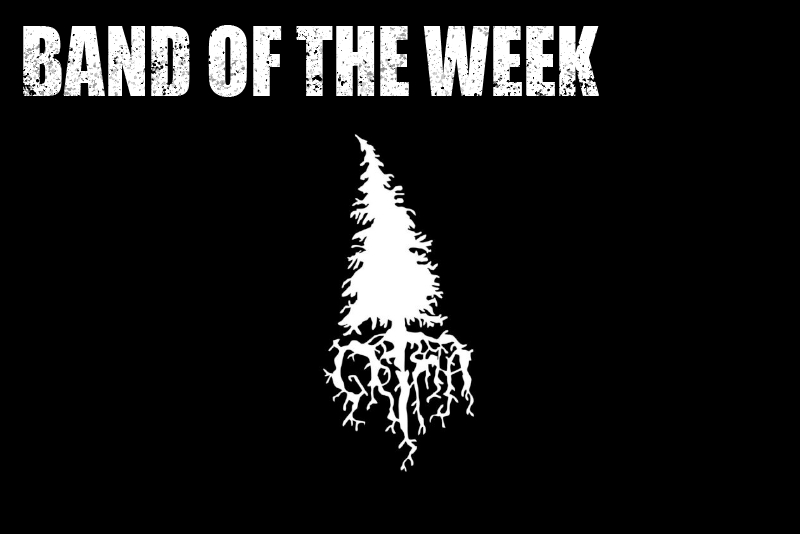 Band of the week 39/2022
Origin: Krasnoyarsk, Siberia, Russia
Genre: Atmospheric Black Metal
The band about themselves:
Grima is two-piece project, which exists since 2014 performing only in studio. It is an atmospheric black metal from Siberia with pagan influence. Our mythology is based on the worship of the elder forest, its power and magic, where the Grima is a supreme god. It is a powerful spirit, who protects only those who lives in a forest, and punishes everyone who does not respect the nature.
Our lyrical hero keeps his way through the impassable taiga forest, and his only hope to survive is to pray to the Grima to have a mercy on him. [Source]
Editorial commentary:
In this one of their numerous joint band projects (Ultar, Second to Sun), the twin brothers Max (Morbius) and Gleb (Vilhelm) Sysoev create a Siberian atmospheric shivering black metal mood that gets under your skin.
Melodic screech vocals, paired with the use of various "genre-untypical" instruments such as an accordion [more precisely its Russian relative, the bayan] create a good combination of familiar and different elements to stand out. Keen captive listeners quickly find themselves in the unforgiving siberian winter forest, which seems to have a great influence on the band's works.
On their tour a few months ago, they roamed through Europe for the first time and were able to enthuse at club shows and festivals, such as the Mahlstrom Open Air.
They brought along the bands Ultar and 暴君 Bloody Tyrant (more info here), whereby the band members of Grima and Ultar (more info here) completely covered each other in the live line-up except for one person.
In conclusion, I can only say that I personally believe Grima still have a great future ahead of them. The sound is independent enough to attract attention and at the same time offers enough familiarity to dedicated fans of the genre. The influence of folk instruments in the quieter parts is clearly one of those unique selling points for me, without which I would probably be writing this article about another band today. How it will be with the many different projects of the two Sysoev brothers in the future remains to be seen, but especially the album Will of the Primordial has already earned a place of honour on my CD shelf and I hope the troupe will soon return to European climes and delight us with another tour!
Live impressions:
Music recommendation:
Live dates:
Fri, SEP 30: Grima @ OZZ, Chelyabinsk / Russia
Sat, OCT 1: Grima @ Svoboda Concert Hall, Yekaterinburg / Russia
Sun, OCT 2: Grima @ Plan B (Edelweiss), Ufa / Russia
Tue, OCT 4: Grima @ Zvezda Club, Samara / Russia
Wed, OCT 5: Grima @ Machine Head, Saratov / Russia
Thu, OCT 6: Grima @ White Horse, Volgograd / Russia
Fri, OCT 7: Grima @ Sgt. Pepper's Bar, Krasnodar / Russia
Sat, OCT 8: Grima @ Podzemka, Rostov-on-Don / Russia
Sun, OCT 9: Grima @ Club 12, Voronezh / Russia
Tue, OCT 11: Grima @ Ubezhische 13, Kursk / Russia
Wed, OCT 12: Grima @ Rock-staR, Bryansk / Russia
Thu, OCT 13: Grima @ Rock-Star, Oryol / Russia
Fri, OCT 14: Grima @ Freedom concert hall, Ryazan / Russia
Sat, OCT 15: Grima @ Aglomerat, Moscow / Russia
Sun, OCT 16: Grima @ Backstage Club, Tula / Russia
Mon, OCT 17: Grima @ Slaughterhouse Concert Club & Bar, Kaluga / Russia
Sun, OCT 23: Grima @ Hermitage, Krasnoyarsk / Russia
Links:
Band of the week is our weekly posting about a band we recommend and is posted every Tuesday at 8pm. These are bands that are just at the beginning of their career that we think need more attention. Please note that most of the articles are German.