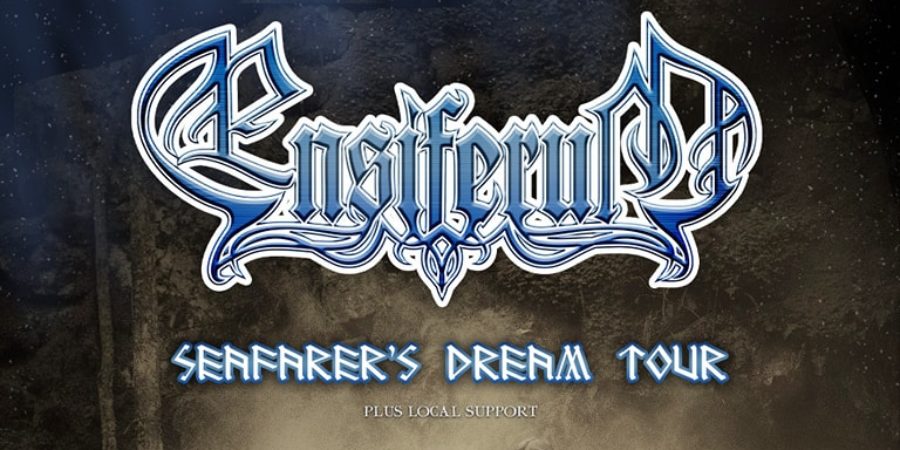 More than two years the current work Thalassic, the Finnish folk metallers Ensiferum, is now already on the market. Unfortunately, the opportunities to celebrate the album on tour, for reasons very well known to us, were quite meager. Then there was a big tour together with Dark Tranquillity, and now we are already in 2023.
But now the time has finally come: Ensiferum will go on Seafarer's Dream Tour 2023 and make Belgium, the Netherlands, Germany and Switzerland unsafe. For Breda and Heerlen (Netherlands), the gig in Sinkt Niklaas (Belgium), Regensburg, Aschaffenburg and for Lindau am Bodensee (Germany) the Dutch through-starters of Vanaheim are already confirmed as support.
Hearty driving metal songs with Viking/Pagan themes and fat anthemic choirs to sing along. Varied and exuberant, yet perfectly rounded – Ensiferum have not only dedicated themselves to this style since the mid-90s, but have also helped shape, define and finally perfect it.
Rightly, then, these lovable Finns are celebrated as the symbol when it comes to fusing folk with traditional and extreme metal in an authentic and successful way.
Also on Thalassic, the 2020 released, eighth studio album, Ensiferum show themselves a little more atmospheric and variable, but remain true to themselves first and foremost: This is folk metal at its best!
Thanks to their rousing and convincing live shows, the Northmen have gained a large, loyal fan base. You not only like to watch the guys, you celebrate with them, rave, sing, dance, have fun and don't forget the evening so quickly.
When Vanaheim enter the stage, no stone is left on the other, because they are simply a force of nature live!
Epic Pagan/Folk Metal from Dutch soil. Stormy elemental forces meet danceable rhythms, hard neckbreakers and sublime melodies. An energetic mix of epic Pagan Metal and the classic, catchy Folk Metal, crawls under your skin and gets you moving, whether you like it or not! With their The House Spirit EP they have already played on many stages in Europe and now with their new album Een Verloren Verhaal a new chapter in the band's history opened.
The new songs from their concept album released in February 2022 will pull you deep into a long forgotten story. A story of man, mother nature and an ancient giant tribe trying to protect their ancient empire. Be captivated by ancient lines from a weathered book, written in a forgotten language. With their rousing live show and the latest songs in their luggage, Vanaheim now brings this story to you… are you ready?
Here you can find an overview of all dates:
28.03 Lingen (D) @alter Schlachthof
29.03 Aschaffenburg (D) @Colos-Saal (Support Vanaheim)
30.03 Regensburg (D) @Eventhall (Support Vanaheim)
31.03 Geiselwind (D) @Metal Franconia Festival
01.04 Lindau (D) @Club Vaudeville (Support Vanaheim)
02.04 Aarau (CH) @Kiff
04.04 Sinkt Niklaas (BE) @De Casino (Support Vanaheim)
05.04 Breda (NL) @Mezz (Support Vanaheim)
06.04 Leuwarden (NL) @Neushoorn
07.04 Heerlen (NL) @Nieuwe Nor (Support Vanaheim)

Here we have for you a small selection of live pictures of Ensiferum from the Wolfszeit Festival 2019:
And here are some more pictures of Vanaheim, from their gigs in Stuttgart, Oberhausen and the Mahlstrom Open Air: