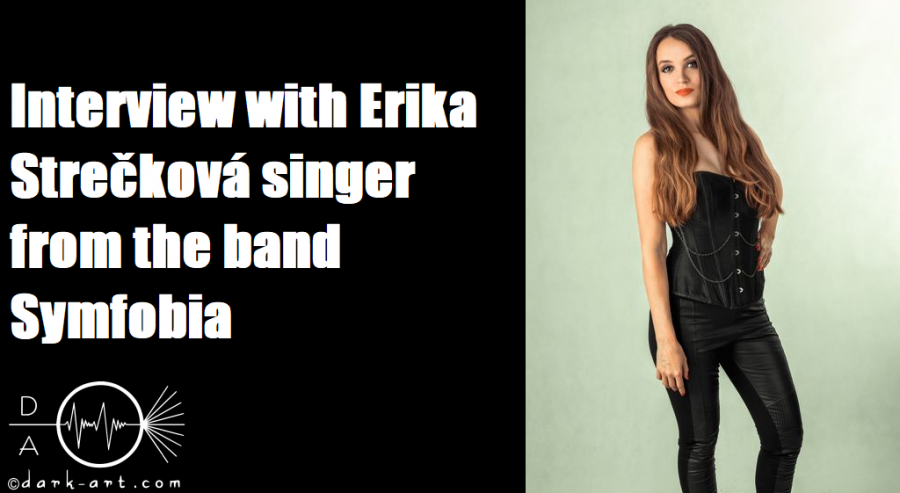 Hello Erika, first thank you for taking the time for us.
Could you introduce yourself and your band for our readers who don't know you?
Ok, my name is Erika Strečková and I'm a singer in a Slovak band Symfobia and as the name reveals, we play symphonic metal. The band was founded in 2007 by our keyboardist Feri Molnár but the band has been active from 2013 when I joined the band. It took three years to record our first album, Way of the Queen. Since 2015 Symfobia has been actively performing on stage.
For me, Symfobia is a band that follows a very classic approach to symphonic metal and has a very classic orchestral sound. Have you always wanted to be a singer in a Symphonic Metal band or have you ever thought about working musically in another area?
Yes, you're right. Our latest album, Smog of Tomorrow is all about majestic orchestral arrangements, prominent guitar solos, beautiful choir parts and two main female vocals in the foreground. I've been singing in bands since I was 15 and I've sung various genres. But it has always been rock music. I started listening to symphonic metal when I was about 17 years old and I immediately fell in love with this music and wished I could sing this genre once. My dreams have come true 🙂
It would also be interesting at this point to know which bands you would count as influences that inspired you to become a singer.
I think I wanted to be a singer from an early age, but I didn't have any favorite bands or singers. At home we listened only to the radio and I was never a big fan of Slovak pop music. In high school, I started listening to Avril Lavigne, Whitney Houston, Nightwish, Evanescence, Within Temptation, Epica, and these bands and singers definitely influenced me the most at that age.
I think your band name Symfobia is a very good choice, it's short and memorable. Which of your band members gave the band the name and what is the history and meaning behind the name Symfobia?
The name Symfobia was created by our keyboardist Feri and there isn't a big story to it. Sometimes
people are surprised because they have different expectations from our music just from seeing the name of the band. We can call it a pure satirical antagonism – contrast 🙂
Let's take a quick look at the lyrics of your songs. In Symfobia, the lyrics of the songs range from socially critical, like in the song Dust, to questioning one's own actions, as is the case, for example, in the track Karma. Erika, can you tell us who is responsible for the lyrics at Symfobia and what sources of inspiration do you have?
Our first two albums were written by our lyricist Rastislav Getta, with the fact that I always discussed topics with him. Now, for the first time, I'm the person who is writing lyrics in our upcoming third album and I love it. I've been writing lyrics from the age of 16, but always only in Slovak. It wasn't until last year that I gained the confidence to start writing lyrics in English. And inspiration? Life itself. My experiences and views on life.
Your song Človek is particularly striking because it is sung in your mother tongue. Erika, can you tell us what this song means to you and the story behind it. Will there be more songs in Slovak or is Človek an exception? Personally, for example, I have never heard an (Opera) Metal track in this language before and found it a very refreshing change.
The song Človek is special to me because it is the only one in Slovak and also because the lyrics were written by me. The word Človek means "man" [editors note: "man" as "human" ] and the song is about us, people, what world we live in, what world we have built, how we do not want to see certain things, we hide from the truth, about how we cannot learn from history, or to learn from our mistakes and that love will always be the answer to everything. I'm sure there will be another song in Slovak in the third album.
Since we just talked about your mother tongue, I would like to ask you the following question.
Are there any peculiarities in the metal scene of your home country that differ to other countries with strong "Metal Music structures"? Is there a metal sub-genre that is particularly popular or particularly pronounced in Slovakia?
Since Slovakia is a small country (about 5 mil.) and rock/metal music is definitely not a mainstream, it's not very easy for metal bands to get in front of the proper audience. Still, there are some good bands that don't give up, play and bring great music to their fans.
Since it was founded, Symfobia has seen several changes, especially on the microphone. In February of this year you announced that Dominika Hodanova was leaving the band after a short time and that you were no longer looking for a new singer.
How did you as a band deal with the departure of Dominika and the other singers (Petra Hasarova and Simona Janovičová) and did the situation frustrate or burden you very much?
Well, we didn't expect it. Things went pretty well with Dominika, and we were very surprised by what Dominika told us and did, and after that we said it was enough. The concept of two singers is great and I personally liked it very much, but we have tried three singers and each time it failed on pretty much the same things. Starting with a new singer always slows us down a lot and it can quite demotivate a person too.
What about the general sound of Symfobia? Will this change a lot because of to the departure from Dominika or will you continue to make music in the usual way despite the lack of duet singing?
At the moment I sing all the parts, which is quite challenging and sometimes I feel like a schizophrenic, jumping from lower to higher lines 😀 Probably I have no choice but to get used to it. Of course, the songs on the third album will be a little bit different, and they will be written for one voice again, as it was on our first album, where I was the only singer.
Let's come to a question that will particularly interest your fans. Can you maybe give a little overview of what you and your band are working on and maybe tell us when there will be something new to hear from you?
We are currently working on our third album. Some songs are already recorded, and we are working on others. Next weekend we start the summer festival season at the Metal Fest in Pilsen in the Czech Republic, we'll play concerts until the end of August and in October we'll have another tour with guys from Citron in the Czech Republic. In the meantime, I hope we can make a new music video for a new song and then we'll see. COVID situation and the singer's departure slowed us down a bit, but I hope we will kick ass soon again.
Finally, a small question, where do you see yourself and Symfobia in 10 years? Do you have a milestone that you still want to reach as a singer in the near future?
I think we have and you will find out about it when we get to it 🙂
Erika, the interview with you was really fun. I wish you and of course all your band members all the best and a successful year 2022!
Thank you very much for the interview and I wish all readers and you all the best and lots of good music.