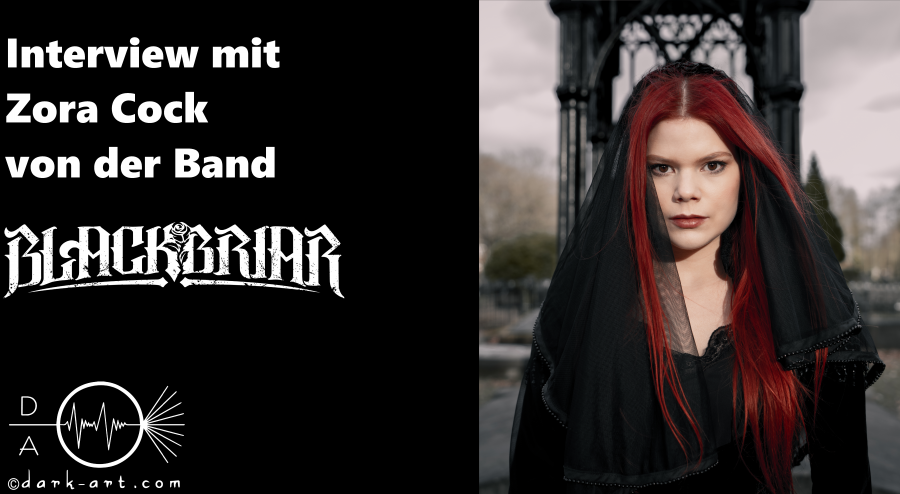 Hello and welcome to Dark-Art. Today we have another exciting interview ready for you, have fun!
Josef: Hello Zora, thank you for taking the time for us. Would you like to introduce yourself and give us an overview of what kind of music your band Blackbriar plays?
Zora: Hi Dark-Art, it's my pleasure! My name is Zora, I'm the singer of the band Blackbriar. We make dark gothic music, leaning towards the alternative and symphonic metal/rock genre. I still think it's difficult to put a label on it, haha! I think people can find out for themselves after listening.
Josef: For me, Blackbriar is a band that is very keen on telling a story in their songs and taking the listener musically to another world. Zora, can you maybe tell us what sources of inspiration you have for the lyrics and how we can imagine the development of a Blackbriar song?
Zora: Thank you! That is a very important aspect of writing our songs, the storytelling side of it. My sources of inspiration can be anything going from my own personal experiences to books, tv shows, music, nature, and I even remember writing a song based on a smell, a perfume. Whatever sparks my inspiration. Writing a Blackbriar song almost always starts with the lyrics, then I come up with a vocal melody and record it "a cappella". I'll then send that vocal recording to René, where he starts working on creating the music based on my vocal lines. Later on, René and Bart start working on the song further, bringing in the guitars.
Josef: What immediately strikes anyone who has taken a look at the official Blackbriar Youtube Account is the really beautiful and atmospherically dense music videos that you have. My favorite videos are the animated Selkie clip or the enchanting Until Eternity with its impressive set and costume choices. Is there a video shoot that you particularly liked or that you particularly remember? Were the music videos all filmed in your home country, the Netherlands?
Zora: We've always put lots of energy and passion into making music videos that complement our songs, so thank you for the compliment! We do a lot ourselves, sometimes even everything, creating the script, preparing all the things needed, scouting locations, filming the footage, and editing the footage. A video shoot that I particularly liked will of course always be our first big production 'Until Eternity'. It took us a whole year to prepare everything from day one until the video was finished. The memories of this shoot will always have a special place in my heart, and I wouldn't have thought in my wildest dreams that the video would be viewed so many times! Another shoot that I really liked was a more recent one: 'The Séance'. We all had a role in this video, the entire band, and the atmosphere was very nice with everyone together. We hadn't played any shows for a long time because of the pandemic, and it felt good to be productive again as a band. The only sad thing was that our keyboardist Ruben couldn't be there back then, because of the travel restrictions, he lives in Norway and we live in the Netherlands. We did make up for that a little bit a year later, by going back to that same location with Ruben and recording a live acoustic version of the song.
Josef: Let's look briefly into the past. Your first debut single Ready to Kill was released in 2014. Did you have any idea at that point that Blackbriar would have in future three EPs and an LP? Did you ever think about sharing a stage with the "big player" of Symphonic Metal Epica one day or was it all beyond your imagination?
Zora: I absolutely didn't have any idea at that point if people would like our music, but I've always dreamed big, and I've always given it my all to try and make my dreams come true. Supporting Epica for the first time felt like a huge milestone to us, and we are lucky to have joined them several times again, and will be joining them again later this year in June! The fact that people are listening to our music and seeing people sing along to our songs during live shows is absolutely beyond my imagination. Seeing cover songs being made, and reading so many lovely comments, all those kinds of things, bring a big smile to my face, and I'd never take those things for granted!
Josef: Since I already briefly mentioned the topic "on stage" in my question. Do you actually get nervous before a performance? Are there any rituals that you or one of your band members have that you do before you go on stage?
Zora: I get ridiculously nervous before a performance, yes! That kind of frustrates me sometimes, but it is what it is, haha! I usually try to find a private room somewhere before the show, to relax, put myself together, and warm up my voice by making weird noises and then singing some songs.
Josef: Let's come to a question that will particularly interest your fans. Can you tell us something about what you are working on right now? Is there anything Blackbriar fans can look forward to in the near future?
Zora: I can't spoil too much, for now, I'm afraid, but we're always in the process of writing new songs, which is going great so far. Blackbriar fans can look forward to new music and might I say that they can look forward to something different, a collaboration, dare I say?
Josef: Now something completely different. Let's switch the roles. Is there any question you would like to ask me as an interviewer?
Zora: That's great! I've seen you at some of our live shows, and you make some very cool flags! I'd love to know more about how you make them?
Josef: Thank you for the compliment! My retro graphics for the flags are created with Microsoft Paint. As a rough template I use character graphics from the fan adventure remake Maniac Mansion Deluxe, which I then partially or completely rework. I add new objects, hairstyles, clothing and lettering. My portrait graphics, on the other hand, are completely pixelated by myself, using photos as a template.
Zora, that was a really nice interview. I hope you had as much fun as I did. I wish you and your band members all the best and a successful (tour) year 2022!
Zora: Thank you so much, I really did! Until we meet again!