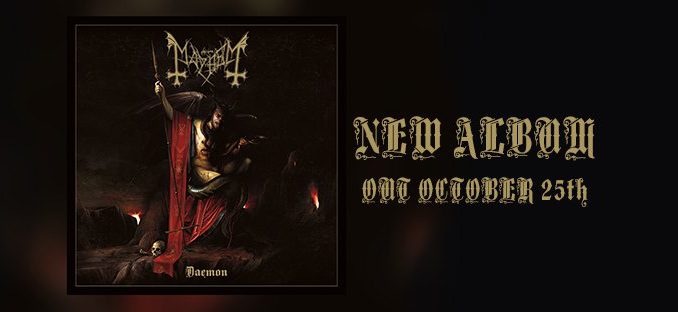 Die norwegischen Black Metal Legenden sind zurück, und zwar mit einem neuen Album und einer neuen Europa Tour. 5 Jahre nach ihrem Album Esoteric Warfare und nach den Touren mit ihrem legendären Album De Mysteriis Dom Sathanas in den letzten Jahren, schreiben Mayhem ein neues Kapitel in ihrer Geschichte. Das Album mit dem Namen Daemon wird am 25.10. erscheinen. Dies gab die Band letztens zusammen mit der Tracklist und dem Album Cover bekannt:
1. The Dying False King
2. Agenda Ignis
3. Bad Blood
4. Malum
5. Falsified And Hated
6. Aeon Daemonium
7. Worthless Abomination Destroyed
8. Daemon Spawn
9. Of Worms And Ruins
10. Invoke The Oath
Vorbestellungen sind ab dem 30.8. möglich.
Pünktlich zum Album geht es auch auf Tour, zusammen mit dem neuen Projekt des ehemaligen Gorgoroth Sängers, Gaahl's Wyrd und dem Electronik Künstler Gost. Hier findet ihr unser Review zum aktuellen Album von Gaahl's Wryd
Tourdaten:
31.10.19 Doornroosje, Nijmegen (NL)
01.11.19 Gebr. De Nobel, Leiden (NL)
02.11.19 Damnation Festival, Leeds (UK)
03.11.19 Academy, Dublin (IR)
04.11.19 Electric Balroom, London (UK)
05.11.19 La Machine Du Moulin Rouge, Paris (FR)
06.11.19 LeEtage, Rennes (FR)
07.11.19 CCO, Lyon (FR)
08.11.19 Metronum, Toulouse (FR)
09.11.19 Hospitalet-Salamandra, Barcelona (ES)
10.11.19 Mon, Madrid (ES)
12.11.19 Magazzini Generali, Milano (IT)
13.11.19 PTR, Geneva (CH)
14.11.19 Szene, Vienna (AT)
15.11.19 Meet Factory, Prague (CZ)
16.11.19 Astra, Berlin (DE)
17.11.19 Tyrant Fest, Lille (FR)
19.11.19 130BPM, Kassel (DE)
20.11.19 Hall Of Fame, Wetzikon-Zürich (CH)
21.11.19 MS Connection Komplex, Mannheim (DE)
22.11.19 Turbinehalle, Oberhausen (DE)
23.11.19 Biebob, Vosselaar (BE)
24.11.19 Pumpehuset, Copenhagen (DK)
26.11.19 Pakkahuone, Tampere (FI)
27.11.19 Tavastia, Helsinki (FI)
29.11.19 Klubben, Stockholm (SE)
30.11.19 Pustervik, Gothenburg (SE)