Die Jungs von LORD OF THE LOST habe ich schon eine ganze Weile nicht mehr vor die Linse bekommen. Umso mehr habe ich mich darüber gefreut, dass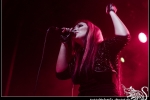 es nun endlich einmal wieder klappen sollte. Vergangenen Samstag gastierten sie mit ihrer aktuellen Tour zum gleichnamigen Album "Thornstar" in Berlin. Den Support spielten SCARLET DORN. Keine Unbekannten mehr vor meiner Linse, waren sie doch im Frühjahr mit LETZTE INSTANZ unterwegs.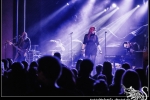 Überraschend kam dieser Support zwar nicht, aber ich ein großes Respekt an Gared, der in beiden Formationen seinen festen Platz hat und somit einige Kraftreserven mehr zu mobilisieren hatte.
Der Saal war sehr gut gefüllt und das Publikum feierte seine Lords. Im nächsten Jahr wird es dann aber eine wesentlich größere Party geben, denn die Band wird 10 Jahre alt! Das feiern sie mit gleich zwei Konzerten Anfang Dezember 2019 in Hamburg. Es wird neben der Rockshow auch eine Akkustikshow geben. Fans dürfen mit Sicherheit schon jetzt gespannt sein und diesem Event entgegenfiebern.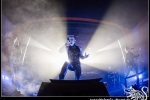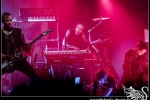 Aber bevor die Jungs ihren eigenen Geburtstag feiern, feiern sie ersteinmal kommenden Samstag mit den Brachialromantikern von LETZTE INSTANZ deren 20 jähriges Bandjubiläum im alten Schlachthof zu Dresden. Dann stehen sie erneut vor meiner Linse ;-).
Weitere Fotos von diesem Abend findet Ihr hier