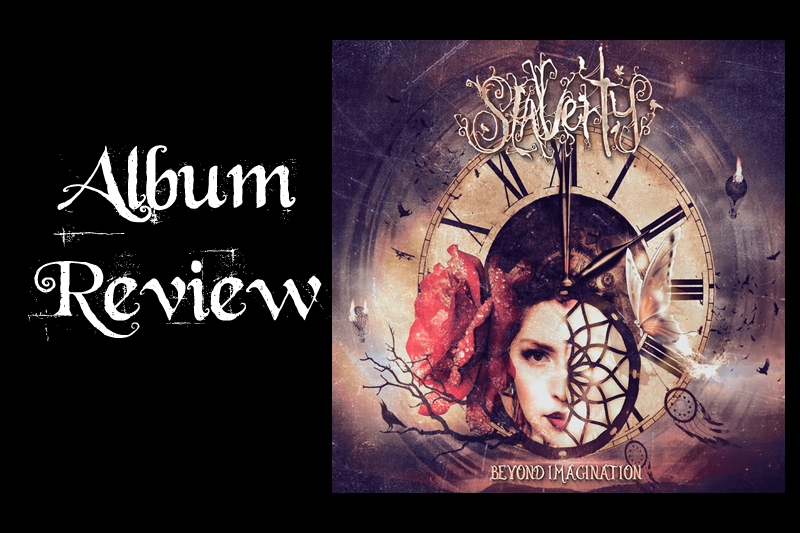 Release date: 24.11.2020
Label: WormHoleDeath
Genre: Symphonic Metal
Duration: 47:50
Tracklist:
Dreamcatcher 05:55

Fairyland 06:04

The Biggest Mistake 04:59

Dementia 05:22

Be Free 03:57

Appreciate 04:26

So Close To Me 04:38

The Beauty Of Life 04:28

Unconscious Reality 03:09

The Enchanted Forest 04:52
Weblinks:
https://www.facebook.com/Slavertyband
https://www.instagram.com/slavertyofficial/
https://open.spotify.com/artist/2ZcPuU1aIZkvzDqs0dFBxj
https://www.youtube.com/channel/UCflRXwfNMPUOxItV3W5ql4Q
https://music.apple.com/us/artist/slaverty/1493670685
Today at Dark-Art we have a new discovery out of the symphonic metal camp. The until now relatively unknown Chilean band "Slaverty" released their debut "Beyond Imagination" last year. Five years after they started, followed this leap to show the world what they got. That being said, the symphonic metal world should give this a listen, since what the band and their frontwoman Karin Montt delivered here, comes right from the center of the heart of the genre. But now let's take a closer look at "Beyond Imagination".
That album starts with the song Dreamcatcher and an introductory drumbeat, that pairs with oriental sounds right before the guitars kick in and confront the listener with a wall of sound. But then it turns mellow to accentuate the amazing vocals. This can make one reminisce of other ballads, that come to mind. But with the refrain it continues in the vein of the greats of the genre, like Epica, Nightwish or Within Temptation. A carrying refrain with nice symphonics and a catchy rhythm, together with a fitting voice, unpacks the full energy of the band. All the while, the musical abilities don't come short either, which becomes especially clear with the versatile guitar solo.
What follows is a trip to Fairyland. Whoever expects something romantic would be 100% right but would be surprised to find that even 100% can be expanded upon. And just like that they follow up a piano intro with full symphonic power. So far so good, but up this point we just got to 100% romantic. It gets heavy when guest vocalist Rodrigo Pérez comes in and fits in perfectly with his harsh yet spicy growled vocals.
The Biggest Mistake was the first single and release that Slaverty ever showed the world, back in 2016. Here too, compared to the softer intro of the last song, one can notice the vocal range of Karin Montt. Between being a ballad and a rock tune, this song is certainly worth listening to.
Dementa too was released in early 2020 and started a release cycle that would lead to the full release. A dark and oppressing beat that always seems to hold back and constantly gives the impression that it is right about to unleash itself, creates an amazing tension towards the chorus, and forces the listener to keep listening or at least makes them bang their head. This song got their first music video as well.
https://www.youtube.com/watch?v=LOgVwTtaZLI
With Be Free they rolled out everything that makes a symphonic metal fan get a grin on their face. They managed to create an amazing wall of sound around a classic division of violins, cello, and viola, supported by a piano. What to say? It just works! Both on CD and in the music video.
Appreciate starts a bit heavier and more thrashy with squeaky guitars. After taking a breath during the last ballad, it has to move on, which is definitely the case here. A pulsing rhythm through the electronics and an inciting drum beat pair with the symphonic sounds that are characteristic for the genre. All these elements make for a song the one wishes for after a ballad in a concert setting. It keeps it going, but still sounds like it's from the heart.
Next comes So Close to Me, which goes into a more ballad like direction, but with a strong and loud voice that that trades its place after the first refrain with guest vocalist Ives Gullé, which works great. The emotional highlight is when both voices combine, and a great guitar solo comes in the lighten up everyone's hearts. This firework of emotions carries out through the rest of the song and makes it a highlight out of all the hits that are presented here.
It continues in a rock direction. The Beauty of Life shows that even in hard times there are beautiful things in life. Sometimes straight forward, sometimes more mellow, sometimes heavy, and with a great eruption in the chorus, the song combines everything under its nuanced vocals that belongs to heavy metal and symphonic metal and still finds its climax when Karin Montt goes up with her voice and showcases her amazing skills, which wasn't even anticipated at this point, but definitely puts a crown on this song.
Musically the record continues where it left of, and follows up with Unconscious Reality, a song with the same musical intention, that packs a punch and leaves nothing to be desired.
With music like this, that is so engrossing it is hard to tell how time flies by, so the end of the album almost came as a surprise, but with it being ten songs, it shouldn't be too surprising. At some point every LP has to end. But how should a band release the listener from this parallel world? With "The enchanted Forest" they picked a fitting song in my opinion since it gives impressions of a farewell. To support this feeling, they gave to mic to Ives Gullé once more to support them. Between ballad and full throttle, this is a fitting ending that goes through all the elements of symphonic heavy metal. A successful ending that brings up the question when the next album will be released.
With "Beyond Imagination" Slaverty achieved a perfect debut, that is unique and of stellar quality. The production could not have been better, and it is certainly presentable all over the planet. It quickly becomes apparent that Slaverty can be considered as one of the leaders of the genre, since they don't lack in any category when compared to their peers. This an absolute recommendation for anyone interested in this kind of music, and I can only wish to see this band live on stage, since I'm already certain that this well a special treat in my concert-going career.
English translation of the review in German, which can be found here.