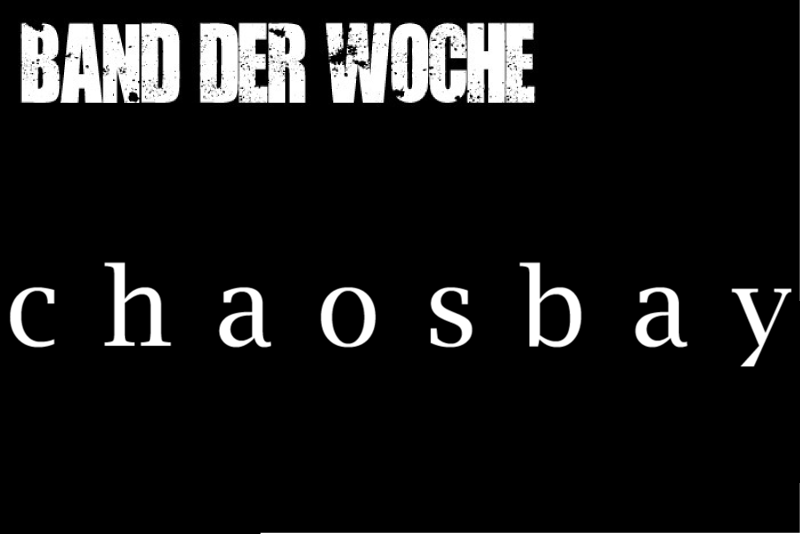 Band der Woche KW 02/2022: Chaosbay
Herkunft: Berlin
Genre: Alternative Metal
Die Band über sich:
Formed in early 2012, CHAOSBAY is digging its way through the thickets of the upcoming metal and progressive music scene. Ever since then, the group founded by mastermind Jan Listing, has always strived to combine complex song structures with heaviness and catchy melodies, led by outstanding and wide-ranging lead vocals.

Meticulously working on their energetic and virtuoso live-shows, their songs tend to exceed the limits of conventional lenghts and structures, leading to a new architecture of sound, inspired by classical music, pop and metal genres.

Touring throughout clubs and having hit many stages in their home country during the last seven years, CHAOSBAY had the opportunity to support the well-known German progressive/alternative-acts THE INTERSPHERE, as well as instrumental-progrockers FRAMES and US-stoner-legends CLUTCH. In 2015 they opened for the german Math-Rockers THE HIRSCH EFFEKT on their Agonsie-Tour and had the chance to play the world-known progressive festival EUROBLAST in Cologne alongside with TESSERACT, ANIMALS AS LEADERS, MONUMENTS and many more.

The band released their fully self-made and eponymous EP in late 2012, a second EP "Tragedy No.1" in 2015 and their first full-length- and concept-album "Vasilisa" in December 2015. After a one-year-break, they returned with a new EP "Of Cutting Cords" in April 2017, celebrated their live comeback with a headliner tour throughout Germany in early 2019 and a new full-length album in 2020 called "Asylum".
Kommentar der Redaktion:
Ein brachialer Sound, der sowohl von phänomenalen Vocals, als auch von erstklassig inszenierten Instrumentals getragen wird: Das sind Chaosbay aus der Bundeshauptstadt.
Hier geben sich Nackenbrecher, Ohrwürmer und entspannende Passagen die Klinke in die Hand – allgemein könnte man sagen die Musik von Chaosbay lebt durch diese drei Punkte.
Ein großes Merkmal ist ohne Zweifel die stimmliche Bandbreite von Sänger Jan, der es vermag, jeden Refrain in eine Hymne zu verwandeln, die man so schnell nicht mehr aus dem Ohr bekommt. Zu den dominierenden Clean Vocals kommen an den richtigen Stellen zudem gewaltige Shouts obendrauf, die das gesangliche Gesamtbild perfekt abrunden. Doch erst durch seine drei Kollegen an den Instrumenten wird der Sound zu dem, was er ist: Das große Ganze kommt sehr progressiv daher, die Gitarrenparts befinden sich auf allerhöchstem Niveau und auch das Drumplay geht kaum besser. Breakdowns, bei denen so manch eine Metalcore-Band neidisch wird, sorgen als letzter Baustein für ein Konstrukt, das man im Grunde nicht in eine klare Schublade stecken kann. Lieder wie "Soldiers" zeigen, dass Chaosbay aber auch anders können: Ein sehr angenehm ruhiger Sound, der trotz allem dennoch auf spielerischem Top Level schwebt. All das auch auf die Bühne zu bringen, ist die große Kunst und genau das gelingt den Vieren ausgezeichnet: Die Live Show von Chaosbay ist ein Phänomen, das man sich nicht entgehen lassen sollte. Durch Lichteffekte und Bühnenpräsenz entsteht eine Atmospähre, die die musikalische Stimmung bestens umhüllt und jeden Auftritt zu einer unvergesslichen Erinnerung macht.
Liveimpressionen:
Chaosbay auf der Boxes Tour in Mannheim
Musikvorschlag:
Live-Termine:
Links:
Webseite
Facebook
Band der Woche, unter diesem Titel stellen wir euch jede Woche Dienstag Abend, 20 Uhr eine Band vor. Dies sind jeweils Bands, die von Mitgliedern unserer Redaktion empfohlen werden, vor allem junge Nachwuchsbands, die unserer Meinung nach mehr Aufmerksamkeit verdient haben.