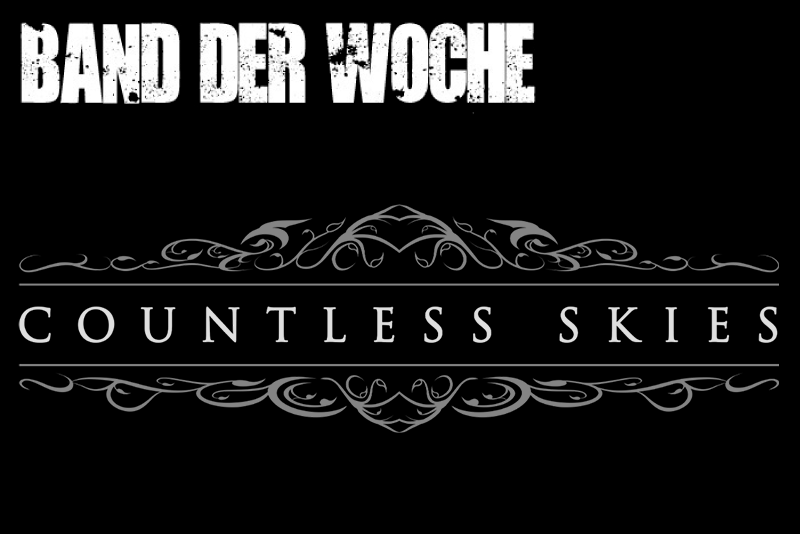 Band of the Week KW 27/2022
From: GB
Genre: Melodic Death Metal

The Band about themselves:
COUNTLESS SKIES burst onto the metal scene with their self-titled EP in late 2014. Blending progressive and darkly intense music influenced by their Scandinavian melodeth heroes, the EP received acclaim worldwide and began a flood of shows up and down their native UK with multiple highlights including an invitation to Bloodstock Open Air 2015.

Building upon their rapid momentum, the band soon caught the attention of Kolony Records, a deal was signed and the band began work on their debut full length.

New Dawn was released June 2016 and was praised "as an effortless display of bravado and musicianship in ways that I can't soundly describe," by USA's New Noise Magazine and an impressive debut from the UK's Metal Hammer. "Countless Skies have what it takes to really blossom in to something original and beautiful… a band with great skill and even greater potential," stated Zero Tolerance Magazine.

With applause the world over following the release of New Dawn, the band embarked on a UK tour with Finland's 'Whispered'. Several shorter tours followed including their first stints abroad, appearing at multiple European festivals such as Dark Troll Festival, Skaldenfest, and MetalDays.
Editor's comment:
If you like melodic death metal and don't know Countless Skies (named after the song of the same name by Be'Lakor), you're missing out.
The four guys from Great Britain are just really good live. I got to know Countless Skies in 2018 at the small Würzburg Skaldenfest festival.
This band was, not only for me, the surprise of the day. Their melodies invite you to headbang, but also to dream. But you should be able to get involved, because some of their works are very impressive and unusual.
Five beats, changing rhythms, great melodies and an epic choir – everything is represented. Coupled with the clear vocals of bassist Phil and the wonderful deep growl parts of guitarist Ross, they put their own unmistakable stamp on every song and make it something special. In the meantime, after their first album New Dawn, their second full-length work Glow has also been released in 2020. So give the guys a chance and have a listen.
Live Impressions:
Music Suggestion:
Live-Gigs:
26.07.2022 Metaldays Slowenien
06.08.2022 Stevenage, UK
21.01.2023 London, UK
Links:
Band of the week, under this title we present you every week Tuesday evening, 8 pm a band. These are always bands that are recommended by members of our editorial staff, especially young up-and-coming bands that we think deserve more attention.