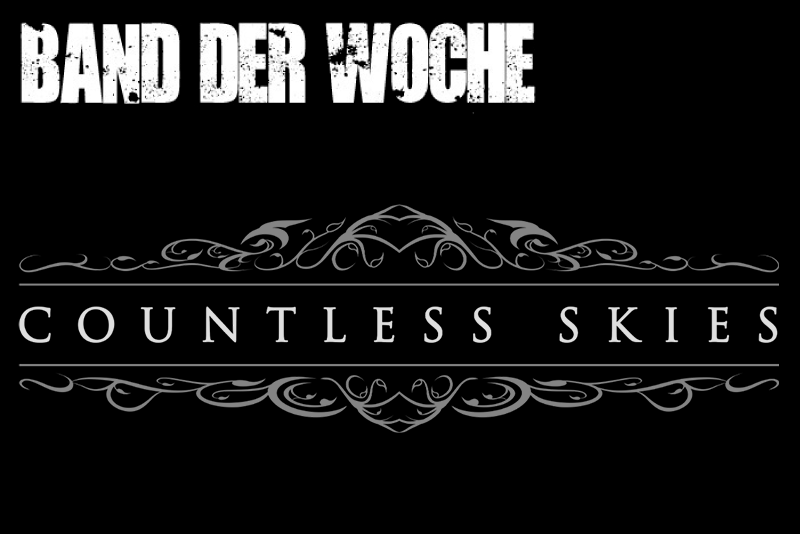 Band der Woche KW 27/2022
Herkunft: Großbritannien
Genre: Melodic Death Metal

Die Band über sich:
COUNTLESS SKIES burst onto the metal scene with their self-titled EP in late 2014. Blending progressive and darkly intense music influenced by their Scandinavian melodeth heroes, the EP received acclaim worldwide and began a flood of shows up and down their native UK with multiple highlights including an invitation to Bloodstock Open Air 2015.

Building upon their rapid momentum, the band soon caught the attention of Kolony Records, a deal was signed and the band began work on their debut full length.

New Dawn was released June 2016 and was praised "as an effortless display of bravado and musicianship in ways that I can't soundly describe," by USA's New Noise Magazine and an impressive debut from the UK's Metal Hammer. "Countless Skies have what it takes to really blossom in to something original and beautiful… a band with great skill and even greater potential," stated Zero Tolerance Magazine.

With applause the world over following the release of New Dawn, the band embarked on a UK tour with Finland's 'Whispered'. Several shorter tours followed including their first stints abroad, appearing at multiple European festivals such as Dark Troll Festival, Skaldenfest, and MetalDays.
Kommentar der Redaktion:
Wer auf Melodic Death Metal steht und Countless Skies (benannt nach dem gleichnamigen Song von Be´Lakor) nicht kennt, hat was verpasst. Die vier Jungs aus Großbritannien sind live einfach richtig gut. Ich habe Countless Skies 2018 auf dem kleinen Würzburger Skaldenfest Festival kennen gelernt. Diese Band war, nicht nur für mich, die Überraschung des Tages. Ihre Melodien laden direkt zum Headbangen, aber auch zum Träumen ein. Aber man sollte sich darauf einlassen können, denn ihr Werke kommen teilweise sehr imposant und ungewöhnlich daher. Fünfertakt, wechselnde Rythmen, großartige Melodien und ein epischer Chor- alles ist vertreten. Gepaart mit dem Cleargesang von Bassisten Phil und der wunderbaren tiefen Growl Parts von Gitaristen Ross drücken sie jeden Song ihren ganz eigenen unverkennbaren Stempel auf und machen ihn zu etwas besonderen. Mittlerweile ist nach dem ersten Album New Dawn auch ihr zweites Full- Lengh Werk Glow im Jahr 2020 erschienen. Also gebt den Jungs eine Chance und hört mal rein.
Liveimpressionen:
Musikvorschlag:
Live-Termine:
26.07.2022 Metaldays Slowenien
06.08.2022 Stevenage, UK
21.01.2023 London, UK
Links:
Band der Woche, unter diesem Titel stellen wir euch jede Woche Dienstag Abend, 20 Uhr eine Band vor. Dies sind jeweils Bands, die von Mitgliedern unserer Redaktion empfohlen werden, vor allem junge Nachwuchsbands, die unserer Meinung nach mehr Aufmerksamkeit verdient haben.