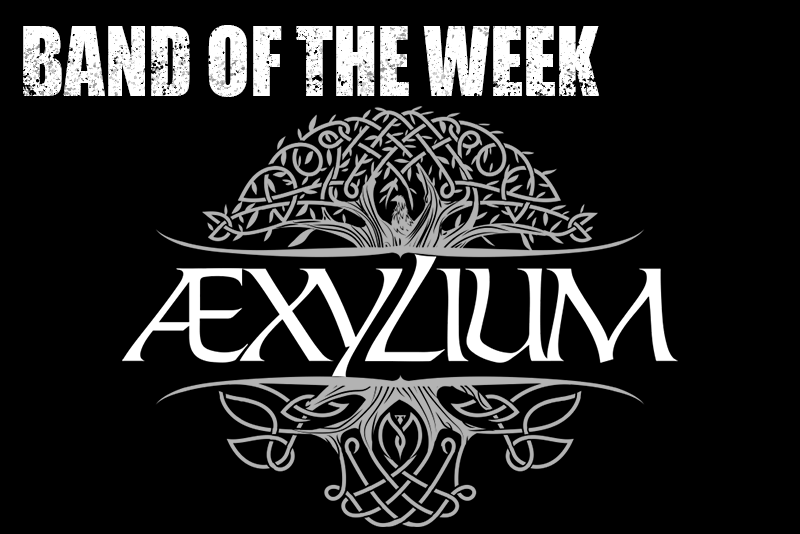 Band of the week 28/2023

Origin: Italy

Genre: Folk Metal

The band about themselves:
Aexylium band was born in Varese (Italy) in 2014 by trying to combine the typical sound of traditional instruments (Flute, Violin, Bouzouki) with the modern one of Metal music.

Being inspired by the main artists of the genre such as Eluveitie, Korpiklaani, Alestorm, Folkstone, they chose Folk Metal as their sound.
Editorial commentary:
Folk metal from Italy, where there is a lively mentality anyway…. Sounds exciting, and it was. I met the band at this year's Mead & Greed Festival in Oberhausen. Eight of them and the only lady in the group stood on the cosy stage in the Resonanzwerk and from second one on they simply captivated everyone. Beautiful danceable melodies, paired with harder parts, which are perfect to let the hair fly and the whole thing accompanied by violin, flute and keyboard. They really, really put you in the mood. There was a lot of momentum! The crowd immediately started dancing and moshing. Also the couple dance, in the form of "we chop in and turn in circles", was celebrated extensively. There was also the first performance with the new singer Samuele, who did a very good job. So well, in fact, that only an announcement clarified this fact and emphasised that he was just on board. They harmonised amazingly well on stage, as if they had always performed together. I also have to mention Thalìa as the only woman in the group. What a charisma and wonderful stage presence she has. She immediately attracted everyone's attention. By the way, at Angus McSix, where she also plays the guitar, she slips into the role of "Thalestris, Queen of the Lazer-Amazons of Caledonia!"
The eight have since released two full-length albums, Tales from This Land and The Fifth Season. The second one dates from 2021.
Unfortunately, they are still relatively seldom on tour in Germany, which is a real pity. Hopefully that will change quickly. Until then, I'll listen to their works and reminisce a bit more. And if you don't know Aexylium yet, then you should catch up with them as soon as possible, shake a leg and let your hair fly!
Live impressions:
Music recommendation:
Both videos here are still with the old singer, but believe me, Sam is in no way inferior to him 🙂
Links:
Band of the week is our weekly posting about a band we recommend and is posted every Tuesday at 8pm. These are bands that are just at the beginning of their career that we think need more attention. Please note that most of the articles are in German.