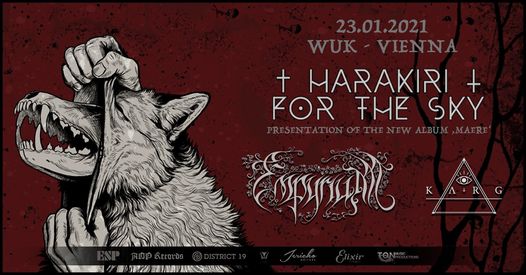 Die österreichischen Post-Black Metaller von Harakiri for the Sky veröffentlichen am 29.1.2021 ihr nun fünftes Studioalbum. Das Album erscheint wie auch schon seine Vorgänger bei Art of Propaganda MÆRE über AOP Records. Einen ersten Trailer zum Album findet man schon auf YouTube, während man noch gespannt auf die Veröffentlichung der ersten Single-Auskopplung warten darf.
Veröffentlicht wurden schon die Trackliste und das Artwork des neuen Albums:
I, Pallbearer
Sing For The Damage We've Done (feat. Neige)
Us Against December Skies
I'm All About The Dusk
Three Empty Words
Once Upon A Winter
And Oceans Between Us
Silver Needle // Golden Dawn (feat. Voice of Gaerea)
Time Is A Ghost
Song To Say Goodbye (Placebo Cover)
Eine Woche vor dem Release gibt es in Wien schon die Release-Show für das Album. Diese findet am 23.1.2021 im WUK statt. Mit dabei sind die deutschen Metal und Neofolk Legenden von Empyrium, die ebenfalls für das frühe 2021 ein Album angekündigt haben, und Karg, das Nebenprojekt von HFTS-Sänger JJ, vom dem kürzlich die neue
EP Resilienz
erschien.